Nanoporous PTFE Membrane
In cooperation with our partner Evertek we developed new material - Nanoporous PTFE Membrane.
This material has the highest hydrostatic resistance, super high moisture vapor permeability, good air permeability, and flame resistant. Usually pore size can be control 0.03 μm~15 μm, thickness 8~50 μm, void volume 80~97 %. It also has excellent corrosion resistance, aging resistance, and high temperature resistance, with serving temperature from -150 ℃ to 250 ℃.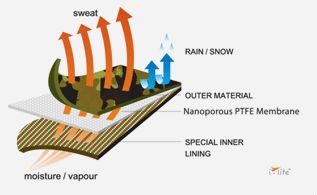 Key advantage
1. Hydrostatic resistance
2. Moisture and Air permeability
3. Flame resistance
4. Broad application